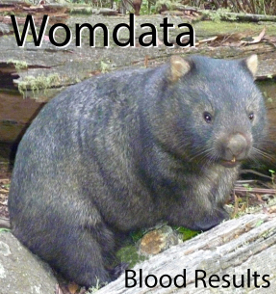 Womdata is a research database compiled from many sources. Wombats are little studied and research is urgently needed as their numbers decline. You can help.
Research is becoming more urgent in the fight to save the three wombat species (Northern hairy-nosed, Southern hairy-nosed and bare-nosed wombats). The range of this, the largest burrowing animal in the world, has declined due to human impact over the years. This includes habitat loss, shooting, and infestation with introduced mites (mange). Collecting all data into a central database can help the research effort.
We need your wombats' blood test results.
Do you have any blood test results from wombats? It doesn't matter how old. The data will be collated and used to assist in wombat research. We don't only need blood test results: Any other data can be entered into the database. Talk to us if you have some ideas – help us save the wombat.