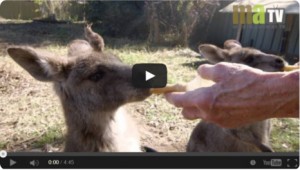 Margaret Howley is a wonderful example of the the 2800 volunteers that work within the groups represented by the NSW Wildlife Council. Margaret works as a volunteer for Native Animal Trust Fund's Hunter Wildlife Rescue Inc and this is her heartwarming story as featured on MediaAnimal.tv.
For the past 35 years former nurse Margaret Howley has dedicated her life to saving Australia's injured and orphaned native wildlife. At 71 years of age Margaret is still working the night shift tending to her wild patients.
The NWC thanks each and every one of the licensed volunteer rehabilitators represented on the council and we hope this inspirational story gives you all an insight into the care, effort and dedication that is the foundation of wildlife rehabilitation.
Follow this link to see the MediaAnimal.tv story "The Australian Nurse Saving Wild Patients!"